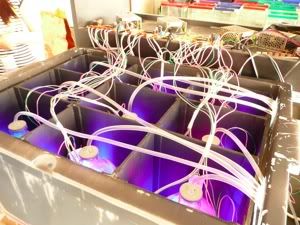 Addressing Applications of Algae for Aquaculture, Energy and Pharmaceuticals (Ateneo Innovation Center)
Details: Friday, 6 Jan 2012, 2:30-3:30 p.m., at Leong Hall.
Speaker:
Matthew Cua
Senior Research Inoventor of Applied Sciences
Inovent, Inc.
Abstract:
"Universities can contribute to development in several ways. They can undertake entrepreneurial activities ... get involved with their communities ... conduct industrial R&D; create spin-off firms; participate in capital formation projects, such as technology parks and business incubator facilities; introduce entrepreneurial training and internships into their curricula; and encourage students to take research from the university to firms."

"Universities need to be transformed to play these roles."

~UN Millennium Project, Task Force on Science, Technology, and Innovation
The Ateneo Innovation Center (AIC) is Ateneo's unique brand on Innovation where we promote and push for multidisciplinary collaboration and innovation inside but more importantly outside of the university. It is also the place where true student centered and led collaborative innovation in focused projects happen that empower and strengthen.
About the speaker:
Matthew Cua is a Senior Research Inoventor of Applied Sciences at Inovent, Inc. He is also the Chief Executive Officer of Skyeye, Inc., and is the Operations Officer for Special Projects and Interns at the Ateneo Innovations Center.
He graduated with a degree in Management with Applied Chemistry from the Ateneo de Manila University. He is currently taking his Masters in Environmental Science, focusing his research in the use of unmanned aerial vehicles in vertical profiling of the lower troposphere and disaster risk reduction & resiliency.